Recipe: Comfortable Gluten Free Bread-In-A-Cup
Gluten Free Bread-In-A-Cup. A gluten-free bread recipe that is easily baked in the oven. I have always baked gluten-free bread in a bread machine with a gluten-free setting. Also, measure flour using nested measuring cups.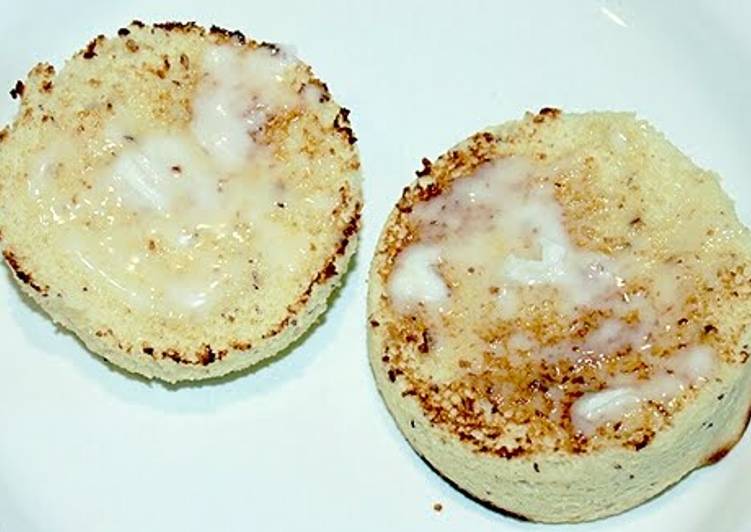 When gluten free bread goes stale, don't ever throw it away! I mostly thought that a how-to video would be fun. Am I going overboard on the overhead videos? #youcantellme. Nowdays, you should can have Gluten Free Bread-In-A-Cup using 5 ingredients and 7 steps. Here is how the way you brew it.
Ingredients of Gluten Free Bread-In-A-Cup
Prepare 1 large of Egg.
It's 3 tbsp of Buttermilk – Or 3 TBSP milk substitute (almond, rice, soy) + 3/4 TSP white vinegar.
It's 1 tsp of Water.
It's 1/3 cup of Gluten Free Bisquick.
Prepare 1 tsp of Sugar (Or 1 Tsp honey, agave, molasses, or 1 Tbsp Applesauce will work as a substitute).
Store the bread crumbs in a freezer-safe container in the refrigerator or the freezer, and you'll never ever be tempted to spend. Store-bought gluten-free breads are often dry, tough and expensive. Here's the best gluten free sandwich bread recipe that's perfect for everyday. Mix flour mixture ingredients together, then add yeast and water roux ingredients.
Gluten Free Bread-In-A-Cup instructions
Grease a large coffee mug thoroughly..
Add the egg, water, and buttermilk. Stir with a fork until blended..
Incorporate the Bisquick and sugar, stirring consistently..
Press the dough down with a finger (if it's soupy, it's fine), and clean the edges of the mug for leftover dough..
Microwave for 85-100 seconds..
Dump onto paper towel to absorb moisture and leave to cool..
Slice into rounds and toast in toaster oven for better flavor and quality, or enjoy while warm! Texture will be spongy..
Mix together well for a few minutes in a food processor to make a. "Make this gluten-free bread in your bread maker. It's not as good as normal bread, but it's pretty good if you must avoid gluten. The mixture will look more like cake batter than bread dough in your machine, don't worry, it will be okay. The loaf may sink while it's baking, leaving a crusty, crunchy bowl. This easy gluten-free bread recipe, adapted from Alexandra Stafford's "Bread Toast Crumbs," requires just one bowl and no kneading.